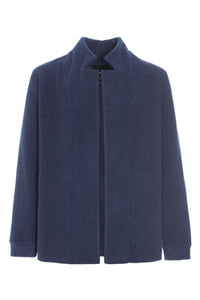 Cardigan in Denim by Henriette Steffensen / Lines of Denmark
Danish fashion company since 2003, founded and owned by creative head Henriette Steffensen, and behind the sustainable brand Henriette Steffensen Copenhagen.  Passion and commitment for a sustainable lifestyle, love for creativity and a no waste approach to almost anything, those core values are the drivers of everyday actions and targets. 
NORMAL FIT

Business casual at its best. This blazer-inspired cardigan has a double-layered collar, side pockets, and cuffed sleeves.

Perfect to wear over a T-shirt or with a shirt for a more formal look.

The fleece cardigan is airy, soft, and durable - ready to wear season after season.
you may also like
---