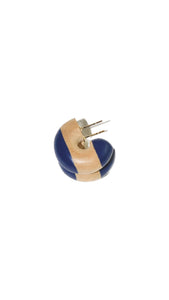 Blue Tommy Stripe Mini Chunk Hoop | Binky & Lulu
Sport prep in the form of classic 90's stripes on our Chunk Hoop. Abundantly rich for an elevated look – The Chunk Hoop. Style up or down, The Chunk Hoop easily elevates any outfit to a desired state of laissez faire.
Mango Wood

14k Gold-Filled Posts
Approx. 1"
Who is Binky and Lulu??

"Values. We believe in the power of craftsmanship to be evident in each and every BL design.
Create. Inspiration sourced from nature, popular culture, travels art periods and life experiences. All designs created in-house by our small team based in New Hampshire and Maine.
Handmade. Ethically handmade by Filipino Artisans, employed by our partners, A Woman Owned Filipino Company."
you may also like
---